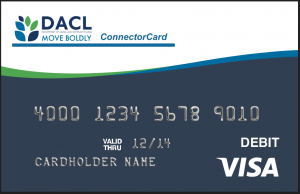 The ConnectorCard program is an income-based cost-share program that is funded by the Department of Aging and Community Living (DACL) and managed by Yellow Cab Co. of DC Inc. The program operates through a Visa-logo debit card which you will be able to use for a variety of ground transportation services.  The card cannot be used for air travel and any other goods or services.
How to Apply: You may apply in person at YCDC office, by mail or electronically submitting a signed application through YCDC's ConnectorCard secured page. The completed paper application can be mailed, dropped off to YCDC's office or electronically signed and submitted along with the required identification for proof of age and DC residency.
Eligibility/Contributions : Participants are eligible to receive up to $100 per month. The amount you are asked to contribute is based on a sliding scale, and your contribution may range between $0- $70 per month based on your income. Program contributions will be required at  the time of funds reload.
Automatic Reloads: Funds will be automatically reloaded to the card once monthly if the balance at the time of the reload is below $200.  If the card has a balance of $300 or more, no further funds will be loaded until the remaining balance is below $200.
Terms & Conditions: If the card is used for non-transportation-related expenses, the card will be suspended and you will be required to repay those funds before the card is reactivated. You must use the card at least three (3) times per month to continue as an active user.
Manage Your Account: When the application is approved the contribution is paid the card will be automatically ordered.  The card will be mailed to the address you direct us to send it and will contain insert information how to activate the card and manage it Online or through the ConnectCard Mobile App.
Next Steps: Submitted applications will be reviewed and a decision made and communicated within 2-business days of receipt. If approved, the Connector Card will be ordered once the contribution payment is made. The new card can be mailed directly to you or picked up from YCDC's office during business hours. Contribution payments can be conveniently made through the ConnectorCard portal or through other sources that best fit your needs.